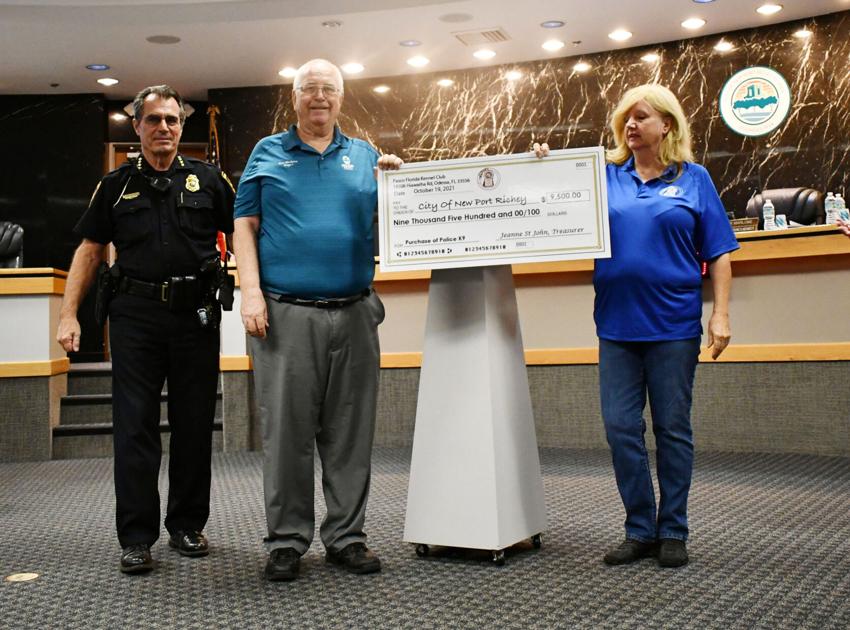 Pasco Kennel Club helps city buy police dog | New
[ad_1]
NEW PORT RICHEY – The city council received good news last week when at its regular meeting, a club presented a check to the police department.
The Pasco Florida Kennel Club presented the town with a check for $ 9,500 to be used towards the purchase of a new K-9 unit. Jeanne St. John, treasurer of the Kennel Club, said the club was formed in 1979 as a non-profit organization to promote responsible dog ownership, responsible breeding, health, training, sportsmanship and education.
"Each year we give back to the community," said St. John. "We know this dog will be a great asset to the New Port Richey Police Department."
The check will help the department bring the unit to three dogs, with Police Chief Kim Bogart saying he would ideally like one for each shift, or four.
K-9 units are members of the Patrol Division, which are led by sergeants and corporals. A patrol squad will respond to urgent service calls and emergencies any day of the year at any time.
In a brief report on the department's accomplishments and goals, Bogart said officers made more than 800 arrests this year, 253 of which resulted in 381 drug charges. A major challenge the ministry has faced so far this year is to see some resignations, layoffs, retirements and agents promoted to other positions.
These changes within the department have left a void in specialized roles, such as putting a boat on the water – the department is limited as to who is qualified to do so. Bogart said his goal is to identify a school to properly train officers in the safe operation of boats on the river, in addition to other training opportunities for officers in radar and laser speed detection, where previously. training was not offered anywhere in the state last year. . Bogart also hopes to train cyclists, which will take up to a week of training. Yet the demand for officers is still pressing, as the ministry still has officers preparing to retire and others planning to move to other agencies.
In other news
New Port Richey has been named a POW / MIA City by the Jefferson Barracks Museum. A representative of the museum told the story of a soldier he met, a prisoner of war of the 106th Infantry Division of World War II, who fought in the Battle of the Bulge.
The museum also donated "Never Forget," a children's book that explains why we remember prisoners of war and fallen soldiers. While reading the proclamation, the museum representative indicated that there were 81,674 MIAs from all American wars at the time of printing of the proclamation. He added that businesses and homes are encouraged to fly the POW / MIA flag when appropriate in conjunction with the US flag.
[ad_2]