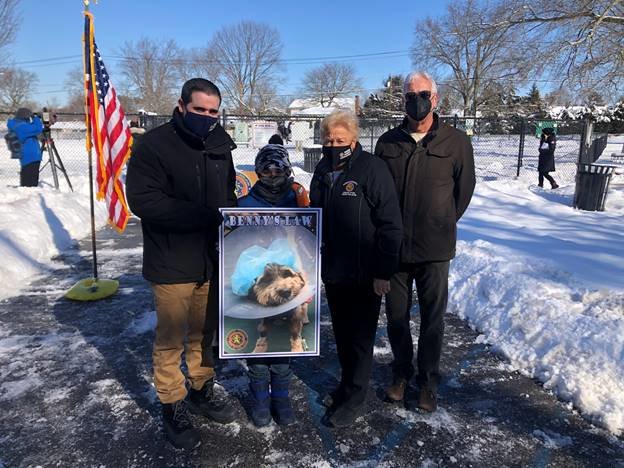 Nassau County May Pass Law Creating "Dangerous" Dog Registry | Herald Community Newspapers
Nassau County Lawmaker John Ferretti, a Republican from Levittown, has proposed a county law that would require overly aggressive dogs to be added to a public online registry.
Ferretti announced the legislation at Eisenhower Park in East Meadow on Monday, accompanied by lawmaker Rose Marie Walker, a Republican from Hicksville, and Gary Rogers, president of the Nassau Society for the Prevention of Cruelty to Animals.
Ferretti, who represents Salisbury and parts of East Meadow, has a personal connection to the law, which he says could prevent tragedies like the one that befell his family. He recounted being in front of his home on November 4, 2019, with his Johnny, his 6-year-old son and their 2-year-old Tibetan Terrier, Benny, when a neighbor's dog ran onto their property and sunk his teeth into Benny's back. Ferretti and his neighbors tried to remove Benny's dog, to no avail. Finally, when Benny stopped fighting, the dog released him.
Benny had five fractured ribs, bruised lungs, a fractured chest cavity, and multiple lacerations. He has since recovered physically, but, Ferretti said, is still traumatized and unable to hang out with other dogs or go out for long periods of time.
"From that day on Benny was attacked, I continue to watch community members walk past this house with their pets and young children, not knowing that a dangerous dog is living within walking distance," Ferretti said. "This legislation will help ensure the safety and information of residents. "
The town of Hempstead took possession of the dog that attacked Benny, whose breed and age were not identified, and brought the incident to a judge to determine if it was safe for the dog to return to the community. The dog was deemed "dangerous" by the judge but returned to the owner, and the case is kept in a private municipal register.
Ferretti's Bill, dubbed Benny's Law, would require owners of dangerous dogs to send notices to anyone who lives within 1,000 feet of them – about six blocks away. The notice should include a physical description of the dog, the date it was found unsafe and the address of its owner.
The Nassau County Police Department would also create a Dangerous Dog Registry, and the Nassau SPCA would work with their owner to explain their responsibilities under the law.
A violation of the law would result in a fine of $ 500 and an additional $ 100 for each day his requirements are not met.
"I think this is a big step forward in promoting accountability," said Diane Madden, an animal rights activist from East Meadow.
Westchester County and counties in over 20 states have similar laws. In Westchester, dogs are considered dangerous if they injure a person or pet, unless the dog is acting in self-defense and the victim is trespassing on its owner's property or committing illegal activity. .
"This law and this database will help protect not only our dogs and pets, but also our neighbors, from other dangerous dogs across the county," Rogers said. "It will also give owners of dangerous dogs the information they need to help and protect their pets and others."
According to William Florio, spokesman for Ferretti, the legislation "does not target a specific breed of dog" or unnecessarily broadens the definition of a "dangerous" dog. It builds on existing state law, which requires dangerous dogs to be reported to the local municipality and added to a private registry. Ferretti's law requires that information be reported to the county and made it public.
"I must also remind residents that if you see an attack like this, or if your animal is attacked, please call the police," Ferretti added. "This is how this law is triggered, and this is how we can make sure our neighborhood pets are safe."
The legislation was passed unanimously by the County Legislature's Public Safety and Rules Committees on February 4. It will be presented to the full Legislative Assembly on February 22.