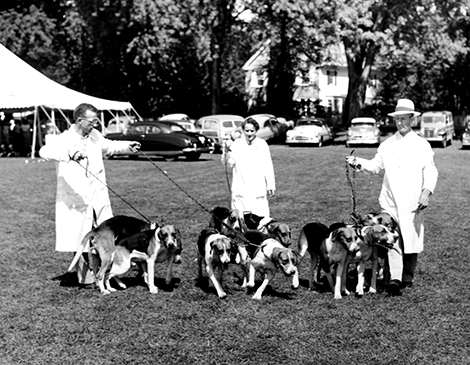 Dog owners prepare for the Chagrin Valley Kennel Club dog show
[ad_1]
Less than a month before the dog show, members of the Chagrin Valley Hunt Club prepared their English foxhounds for the competition.
August 10, 1953 was truly a scorching summer day. With less than a month away from the 11th annual Chagrin Valley Kennel Club dog show, handlers took advantage of Monday afternoon to prepare their dogs for the spotlight at Polo Field at Gates Mills.
Among the handlers looking to get extra work with their canine companions were three from the Chagrin Valley Hunt Club, who brought in 10 English foxhounds. The dogs participating in the dog show underwent obedience and conformation tests for three days.
Although he never won the Best in Show award at the Westminster Dog Show, the English Foxhound is continually ranked among the best hunting dogs due to its long muzzle and great endurance. In 1964, the F̩d̩ration Cynologique Internationale Рone of the largest dog organizations in the world Рrecognized the English foxhound as a breed.
The winner of the Dog Show in 1953 is unknown. While the Chagrin Valley Kennel Club Dog Show was originally started and operated by a private kennel club, it was taken over in the 1960s by the Western Reserve Kennel Club, which still runs the show to this day. He moved to an adjacent polo field in the late 1950s before moving to Bill Stanton Community Park in Madison in 2011.
[ad_2]